My novel FarCry - Götterdämmerung (God's Twilight), published in 2007 in Germany is a written shooter, telling the story of the first game and featuring the game's hero Jack Carver.
As there weren't much pieces of information on Jack in the game, I was asked to make up a prehistory, events and encounters with persons who shaped the character of Jack Carver. Like famour Jack Bauer, my Jack was a tough guy and a always had an actor in my mind.
Well, it wasn't Til Schweiger (still from FarCry, 2007) as Jack Carver....
... but Daniel Craig (still from James Bond - Casino Royal, 2006).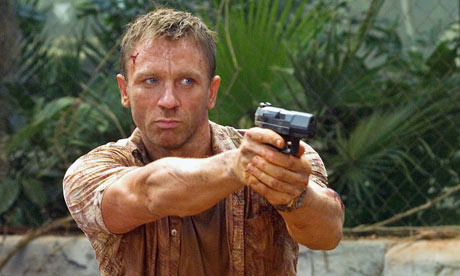 After having seen the opening sequence in Africa, where he also wears a Hawaii shirt it became clear to me, that Daniel Craig was the type of Jack, I had in mind.

However, in my sequel FarCry 2 - Blutige Diamanten (Blood Diamonds, 2008) I made this a topic of a dialogue, where two of Jacks friends discuss who might be an appropriate actor for him.